April 19, 2023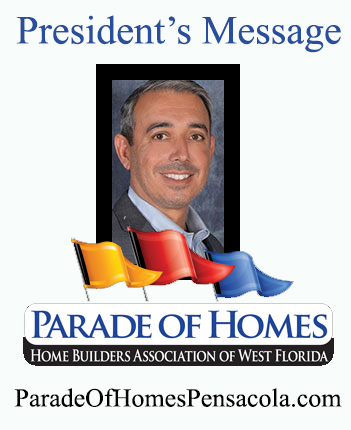 By Amir Fooladi, HBA President
On behalf of the Board of Directors of the Home Builders Association (HBA), it is my pleasure to welcome you to the Parade of Homes. We are pleased to have the Parade of Homes back to the original time frame.
Being in the spring offers people who are courting the idea of moving over the summer an opportunity to view firsthand some of the product that will be available. With the hot housing market, inventory has impacted the number of entries we have for this year's Parade of Homes. However, we are very pleased that this community event is taking place, especially since this is our 64th year.
In terms of cutting-edge technology and features, make sure you see the HBA's American Dream Home, built by Signature Homes, LLC, in the gated community of Iron Rock, in Escambia County. Iron Rock, a 290-lot gated community offering architectural details warm rustic hues that tie to local elements native to the landscape.
The beautiful Iron Rock community is in one of the fastest growing Pensacola suburbs. Cantonment, Florida is a mere 20 minutes from downtown Pensacola and 30 minutes from both NAS Whiting Field and NAS Pensacola. Cantonment is located in Escambia County, Florida's westernmost county at the tip of the "Panhandle" and is home to an International Paper Mill operation.
The private Iron Rock neighborhood will feature a host of amenities with room for future amenity additions as the community grows to its full potential. Enjoy an atmosphere that embodies nature and yet feels like a resort.
The Dream Home is a very spacious 2,252 square-feet, four bedrooms and three bathrooms including a two-car garage with an impressive list of features and upgrades. "Pensacola Energy Natural Gas Advantage Elite Home features are designed to save money and reduce energy consumption," said Marketing Manager Jill Grove, of Pensacola Energy. "This has been an exciting project for our team of professionals who were involved in the planning before construction began. We made significant recommendations to develop a customized energy-feature package that will benefit the homeowner for years to come."
I am very thankful to the team at Signature Homes, LLC for building this beautiful home for the HBA. Also, we could not do this project without the help and support of our Dream Home Donors, and our major partner in Pensacola Energy. Make sure you view the Dream Home Donors list and if you see something you like in the Dream Home, contact one of the donors. I am sure they can be of service.
What are we seeing in the housing industry across the nation? Consecutive solid monthly gains for builder confidence, spurred in part by the slightly easing mortgage rates, signal that the housing market may be turning a corner even as builders continue to contend with high construction costs and building material supply chain logjams. Builder confidence in the market for newly built single-family homes in February rose seven points to 42, according to the National Association of Home Builders (NAHB)/Wells Fargo Housing Market Index (HMI) released today. This is the strongest reading since September of last year.
As the housing industry celebrates New Homes Month in April, recent data from the National Association of Home Builders (NAHB)/Wells Fargo Housing Market Index (HMI), reveals that first-time home buyers account for almost half (43 percent) of the new home market in 2021, up from 32 percent in 2018.
According to the index, about two-thirds of the builders reported that more than 20 percent of their homes were sold to first-time buyers. Twenty-seven percent of builders said more than half of their sales were to first-timers.
"A growing number of first-time buyers are eager to purchase a new home, yet home prices remain a challenge," said NAHB Chairman Chuck Fowke, a custom home builder from Tampa, Fla. "Policymakers must address the barriers to entry for buyers, such as soaring material costs added to the price of a new home, to keep the American Dream of homeownership within reach of everyone."
Home builders recognize the variety of factors that contribute to housing affordability. This year, building materials have played a significant role. Lumber prices have skyrocketed more than 180 percent since last spring, and this price spike has caused the price of an average new single-family home to increase by more than $24,000 since April 2020, according to NAHB standard estimates of lumber used to build the average home.
The average first-time buyer share has trended upward steadily since NAHB began using the current methodology to measure it in 2016. Between 2018 and 2021, the share grew strongly from 32 to 43 percent. The reason for the upward trend before 2018 is less clear, but declining interest rates undoubtedly contributed to the post-2018 surge. The rate on 3-year fixed rate mortgages in the Freddie Mac Lender Survey declined from over 4.75 percent in October 2018, to under 2.75 percent by the end of 2020.
What is interesting is that this coincides with what we are seeing in Northwest Florida. Land prices have skyrocketed, the hidden costs of housing with regulations and fees have made it harder for first-time home buyers to obtain homeownership. This is why the Home Builders Association fights against regulations and fees that add to the cost of housing but does nothing to protect the health, safety and welfare of home buyers.
If you are in the market for a new home, the Parade of Homes will afford you the opportunity to see homes of all shapes and sizes complete with valued amenities.
I encourage you to visit the homes scattered throughout Escambia and Santa Rosa counties. Special thanks the home builders who have entered homes into the Parade including Acorn Fine Homes, D.R. Horton, DSLD Homes, Encore Homes by Parsco, Flynn Built, Holiday Builders, Lennar, Mitchell Residential, Owens Custom Homes & Construction, Inc. and Signature Homes LLC.
The Parade of Homes is brought to you by the HBA, Signature Homes LLC, SNS Realty, Pensacola Energy, Ballinger Publishing, Pensacola Magazine, WEAR TV 3, COX, CAT Country 98.7. This year's Parade is set for May 6 – 14, 2023, with weekend hours from 12:00 p.m. – 6:00 p.m., and weekdays 3:00 p.m. – 6:00 p.m.
In closing, whether you are a potential home buyer or looking to build a home, the Parade of Homes has something for everyone.
PARADE OF HOMES 2023 IS BROUGHT TO YOU BY:

Questions?  Contact Us.