One51Main Loft by ParsCo
March 28, 2015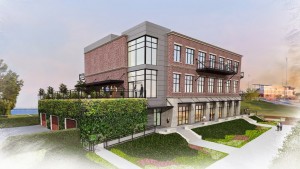 One51 Main, an exciting new address in downtown Pensacola, opens the door to a new era for urban living in our city. The first of its kind for downtown, the three story building will be home to retail shops, and restaurants on the street level, the offices of Beck Partners, on the second floor, and the third floor will consist of three residential high-end condominium loft units.
This beautiful, sustainable design project was created by Bay Design Architects and the shell is being constructed by Williams Brown of Pensacola.
ParsCo was recently selected to complete the build out of one of the premium high-end loft condominiums on the third floor.
Sustainable features include: Geothermal HVAC, Insulated Concrete Form Construction, Living Green Wall, native and sustainable landscaping. All of these features contribute to creating one of the most energy efficient buildings in Historic Pensacola. Visit www.one51main.com for additional information.
The new loft that ParsCo will be completing is being designed by the talented group of local Architects Dalrymple Sallis and local Interior Designer Julie Hancy.
PHOTO AND TEXT CREDITS to Beck Property Company, LLC
http://www.pars-co.net
Construction Management
This entry was posted in Uncategorized. Bookmark the permalink.