You are cordially invited: Summer Vista Pensacola
January 5, 2016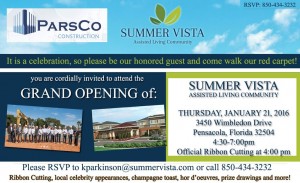 You are cordially invited to attend the Grand Opening of Summer Vista Assisted Living Community.
It's a celebration so please be our honored guest and come walk our red carpet!


Please join us:
Thursday, January 21, 2016
3450 Wimbledon Drive
Pensacola, Florida 32504
4:30-7:00pm
Official Ribbon Cutting at 4:00pm
Ribbon Cutting, local celebrity appearances, champagne toast, hor d'oeuvres, prize drawings and more!
Please RSVP to: kparkinson@summervista.com or call 850.434.3232
http://www.pars-co.net
Construction Management
This entry was posted in Uncategorized. Bookmark the permalink.